NKY strives to provide clients with architectural, engineering, project management and consultancy services which surpass all quality expectations. NKY is ISO 9001 certified, this credential is the industry standard for quality control principles including; customer focus, management, process approach and continuous improvement.
To ensure constant improvement, NKY established a Quality Management Framework for measuring and enhancing business performance.
To achieve quality goals, NKY are committed to: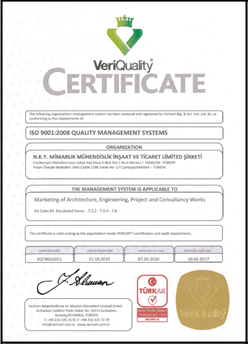 – Setting measurable strategic, quality and business objectives with regular reviews
– Continually improve the quality of designs, engineering, project management and consultancy
– Complete Employer Satisfaction Surveys to attain employee feedback in order to enhance performance standards
– Monitor, manage, regulate and provide support to contractors and partners
– Establish quality training and development programs to all employees
– Analyse the efficiency and effectiveness of the organisation and systems, seeking and implementing improvements
– Management reviews of audit results, customer feedback and complaints
NKY aim to practice and promote the highest quality standards and integrate practices seamlessly across all international projects.